From Keynotes, to Workshops, to Consulting and Training – Kelly's Story Formula will change your business and change your life
As Seen on The Fashion Hero TV Show
Huffington Post Contributor
Motivational Speaker & Comedian
Award-Winning Storyteller
Holland America Cruise Lines Entertainer
Author of Who Hijacked My Fairy Tale, The Story Formula, Gutsy Girls Pocket Guide to Public Speaking
Creator of Story Impact Academy
And Story Crafting Summer Camp
Story Expert and Coach
Speech Presentation Skills Coach
20 Years Charming Audiences Coast to Coast
Where the art of story meets the business of persuasion
Harness the power of story to improve skills in customer service, leadership, sales, marketing, team building and employee engagement – to raise your level of influence and motivation.
According to the latest Gallup Poll, over 70% of employees are disengaged in the workplace, and if unchecked is predicted to rise to 85%.This means they've quit, they just haven't left yet. Kelly will help engage employees and reconnect them to the passion and purpose for what they do and why it matters to their organizations and the people they serve.
But the disconnect isn't just on the inside. Now more than ever, employees distrust leadership, customers distrust institutions, and consumers distrust sellers. We don't have a customer service, team,  leadership, or selling problem – we have a trust problem. This means we have a connection problem. Kelly will help you master the art of connection.
Kelly's Interactive Video Gallery on Youtube – Subscribe Today and Get Videos All Year Long – www.Youtube.com/kellyswanson
All of the videos in this gallery are divided into categories/playlists. Choose the playlist, open it up, and choose the video you want to see. Then when you're done, hit the "X" in the upper right corner of that playlist box to get back to the main screen again to hop to another category. See the many faces of Kelly's work. Cool, eh?
endorsement by Patricia Fripp, Past Pres. Nat'l Speakers Assoc
happy clients include
Amway World Headquarters – Holland America Cruise Lines – PetSmart – Auto Owners Insurance – City of Las Vegas – National Security Agency – Boeing – Toastmasters Internat'l -Tastefully Simple – Aldi –  Brookshire Grocery – GlaxoSmithKline – Novant Health –  American Payroll Association – Wells Fargo – National Guard –  Farm Bureau – RE/MAX – Iowa State  University  –    Read more
Endorsement by Kevin Brown, Servpro
I just finished reading the second set of evaluations (week two) and just like week one, the attendees found you to be amazing and simply the highlight of the convention. Time and time again the forms listed you or things you said as the most important take away they had from the convention. As a speaker, one does well if they can get people to remember a few things they say. But, if one can change a life through a message, there is no higher praise than that. Thanks for being a part of our program. Best wishes in all your future activities. You have a gift!
JEFF HARROLD
Chairman & CEO | Auto-Owners Insurance
Leave Your Own Review!
Huge thanks for your stupendous presentation at APA's 34th Annual Congress! I had already heard you were an amazing humorist, and you exceeded my expectations. "Who Hijacked My Fairy Tale" was masterfully crafted and outrageously entertaining. In the midst of the laughter, there was a subtle yet poignant grace through your vivid characters. You are an artful storyteller! APA's members were mesmerized as you took over 2000 people on a journey, which was more relevant to our theme than I could have imagined. We look forward to having you back in the near future!
DAN MADDUX
Executive Director
American Payroll Association
Kelly did her research and delivered a targeted message to our scientists and engineers that had us laughing (really hard!) and thinking while totally mesmerized. The "formula" she developed will provide us a guidepost for crafting our own compelling messages going forward. I keep getting stopped in the hallway by people who attended wanting to thank the team for bringing her in. The timing was perfect. We really needed to let loose and laugh. Kelly made a wonderful impression.
SUE HOFF
Research and Development
Amway World Headquarters
Just watching Kelly Swanson speak is like attending a masterclass in storytelling. Participating in her program is like getting a master's degree. Kelly not only teaches you how to craft a compelling, entertaining and relevant story, she also explains how to deliver it powerfully—with humor, emotion, effective timing and pacing, etc. I walked away from the workshop with a significantly better keynote, one that allowed me to make a stronger connection with my audiences. I recommend her for anyone who wants to become a better, more successful, and higher-earning speaker!
KEITH HARMEYER
Partner, SmartStorming.com
President-Elect FL Speakers Association
Kelly Swanson isn't just one of the best storytellers in NSA (National Speakers Association), she is an artistic genius; a story-crafter par excellence. She understands how to take apart a story and put it back together so that when you deliver it your audience is right with you every step of the way. She is generous of spirit, authentic, funny, and a delight to work with.
HELEN TURNBULL PhD, CSP
CEO, Human Facets
Thank you Kelly for a very inspirational, funny, and practical talk. You have kick started something in our organization that will make a profound difference in our culture.
TRI TANG
Carolinas Healthcare
Twitter Mentions
Why Leaders Need To Be Good Storytellers https://t.co/jWo8mZVCx8 @motivationspkr
#Leadership #StoryTelling #PublicSpeaking
The Power of Story in Business. Itw w/ Kelly Swanson (@motivationspkr) https://t.co/EUo0W6b7pE #strategic #storytelling #Entrepreneur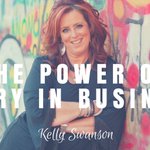 CANA thanks Batesville for their support of the 2018 Cremation Symposium and our Keynote speaker Kelly Swanson.
Sponsors @motivationspkr #CANAconnect https://t.co/eqvMAhONq0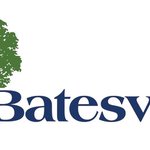 The Power of Story in Business. Itw w/ Kelly Swanson (@motivationspkr) https://t.co/8Q4mUqerr4 #strategic #storytelling #Entrepreneur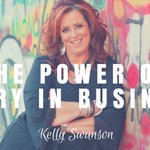 The Power of Story in Business. Itw w/ Kelly Swanson (@motivationspkr) https://t.co/F0aqtjs0HG #strategic #storytelling #keynote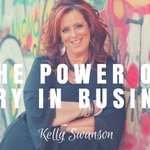 Thank you, each speaker lending your expertise to CANA's 2018 Symposium and helping us connect the dots to cremation success #CANAconnect @motivationspkr @burmeisterd1 @ringmarketing @stansburyglenda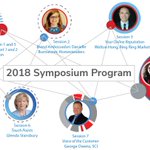 The Power of Story in Business. Itw w/ Kelly Swanson (@motivationspkr) https://t.co/xCfzqOy0gq #strategic #storytelling #keynote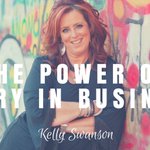 NEW EPISODE: The Power of Story in Business. Itw w/ Kelly Swanson (@motivationspkr) https://t.co/IM6IviLKyM #strategic #storytelling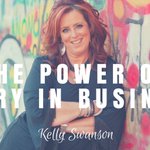 NEW EPISODE: The Power of Story in Business. Itw w/ Kelly Swanson (@motivationspkr) https://t.co/hYn6OEEKue #strategic #storytelling #sales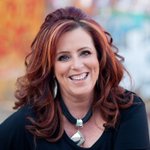 Load More...
Facebook Reviews
Kelly is a gifted storyteller and an excellent coach. Don't even think about passing up the opportunity to work with her or observe her in action. You will get lots of value out of the time you spend with her.

Lori Klinka

11/10/2016

Absolutely a 5 star speaker! Beautiful, down to earth, funny lady with a great story to tell. Just listen.

Kathy Dittemore

1/26/2018

Kelly is masterful at making stories memorable! I was in the audience of her Hot Seat Show and was amazed at how quickly she was able to make gesture, voice, and content adjustments that took the stories from good to fabulous. I'm signing back up for another round.

Amy Kinnaird

11/14/2016

I met Kelly at our annual Chicktime Retreat last summer. I am working on my story that she encouraged me to share. Her love and enthusiasm was shining throughout her workshop. I love her heart, her sense of humor and the fact that she could see me, hear me, and love me. I love her and hope to get to be with her again.

Tara Chapman Johnson

1/26/2018

Kelly Swanson is a savant - a gifted speaker and story-whisperer who has a natural talent for getting to the heart of what will make your narrative stronger. The transformation Kelly delivers in 5 minutes of critique will astound you. I'm blessed to have some experienced speaking professionals in my circle of friends and colleagues, but Kelly Swanson is my final stop for "tough love" feedback that helps my content leap the gap from "good" to "great."

Dave Bricker

4/24/2017

Two years after hearing Kelly at an event here in Las Vegas people I run into still remember Kelly and her stories. Entertaining, upbeat and engaging - she makes a lasting positive impact!

Patsy McFadden Choat

11/10/2017

Kelly Swanson is the real deal! I've seen her live several times and I've been coached by her. She knows how to engage an audience from start to finish and knows how to help others craft their own stories. I love Kelly Swanson!!!!

Marilyn Sherman

10/25/2017

Just finished a webinar with Kelly Swanson. Very inspirational! Thank you for your sharing your time and passion for story with us. Highly recommendable!
- Chad

Chad Johnson

1/24/2018

Amarsinh Pandurang Thube

10/02/2017

Kelly Swanson is a true Motivational Speaker with such a creative presentation custom designed for every audience. She is also a great Coach for speakers that want to pursue this path! Thanks Kelly for all you do for so many!

Sue Falcone

6/04/2014

Ibtisam Rashid

2/01/2018

Bee Ramirez

1/26/2018

Becky Hatch

3/01/2017

Unbelievable teacher and story teller, and hilarious too!! Show stopper, you never want the story's to end.

Amy Stauffer Calhoun

1/26/2018

Tina Lunsford Cline

3/01/2017